Welcome to 12 Palms Farm.
"Life in the slow lane" is our motto here at 12 Palms Farm, a small, family farm in Cocoa, Florida, about 45 minutes east of Orlando. Named for the twelve palm trees that line our entrance, 12 Palms Farm not only strives to produce the highest quality farm products, we are committed to doing so while being responsible stewards of wildlife and the environment. So strong is our commitment, we have been awarded the Animal Welfare Approved designation. This means our small herd of heritage breed, Nigerian Dwarf Dairy Goats and Dexter Cows; our flock of heritage breed, free-range hens and ducks; and our herd guardian llama are raised according by the highest welfare standards in the world. This guarantees us the best milk and milk products, and the best farm fresh eggs you'll find anywhere. 12 Palms Farm is a place to relax, reflect, and enjoy the simple pleasures of "life in the slow lane". Stop by and share some of these pleasures with us.
.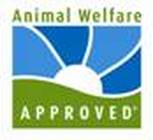 Animal Welfare Approved has the most rigorous standards for farm animal welfare currently in use by any United States organization. Its
standards were developed in collaboration with scientists, veterinarians, researchers, and farmers across the globe to maximize practicable, high-welfare farm management. Animal Welfare Approved's standards incorporate best practices and recent research and have been adopted only after rigorous review. The Animal Welfare Institute (AWI), a non-profit charitable organization with a long history of reducing the sum total of pain and fear inflicted on animals by people, made the decision that it needed to create a separate division dedicated solely to certifying and promoting family farms that raise their animals according to the highest welfare standards and AWA was founded in 2006. The fundamental goal of Animal Welfare Approved is to improve farm animal welfare. The main tool in this effort is granting the use of the AWA logo to farms that are annually audited and found to comply with rigorous animal welfare standards. Seeing the AWA seal gives consumers a way to identify products which come from humane farming systems, and it gives farmers a way to show their customers how they farm.

Farm Partners: Richard Baker, Judith McKenna
4880 Coconut Avenue
Cocoa, Florida 32926
321-208-1253
12palmsfarm@gmail.com

Open three days a week:
Tuesday 12 pm - 3 pm, Friday 10 am - 3 pm, Saturday 10 am - 2 pm

Affiliations: American Livestock Breed Conservancy, Humane Farming Association, Farm to Consumer Legal Defense Fund, Farm Aid, Farm and Ranch Freedom Alliance, Slow Food USA, Slow Food Orlando, Local Harvest, Southern Sustainable Agriculture Working Group, Agritourism World, American Towns.
12 Palms Farm..."Life in the slow lane"