Local, natural and simple--just the way nature intended.
The Country Store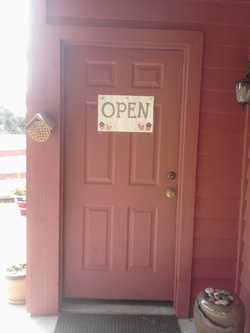 12 Palms Farm is home to the Cocoa Green Market, a cooperative of local farmers and small businesses dedicated to the principles of green living and sustainable farming practices.

At the farm you will find farm fresh eggs, fresh local produce grown to organic standards, farm fresh eggs (chicken and duck), raw cow and goat milk*, homemade cheeses*, butter*, yogurt*, ice cream*, home baked breads, local, raw honey, Farmer Jane's organic herbs, Farmer Jane's handcrafted goat milk soaps, homemade jams and jellies, Farmer Jane's chemical free insect repellent and cleaning products, artisan soy candles, sachets, room fresheners.
Open three days a week:
Tuesday 12:00 pm - 3:00 pm
Friday 10:00 am - 3:00 pm
Saturday 10:00 am - 2:00 pm

*Note: all dairy and egg products are sold for pet/agricultural use and not for human consumption per Florida Law.

---
A Rainbow of Colors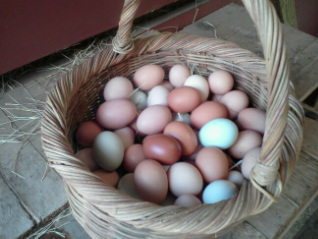 Eggs from our free-range heritage breed chickens come in a rainbow of colors and sizes. Because of our commitment to preserving these old breeds, some of which are on the endangered list, our egg production is lower than traditional commercial operations. Our chickens are allowed to be true to their breed and produce the natural number of eggs their bodies support, and they are totally "chemical/drug" free. No medicated feed, no hormones, no antibiotics! They spend their days roaming freely around the farm, scratching, eating bugs and grass, taking dust baths, and soaking up the sun. At night, they go into their coops to roost with plenty of fresh, clean, water and hay for nesting and bedding.
---
Farmer Jane's Goat Milk & Honey Soap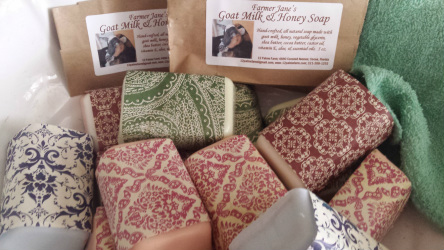 Our very popular low lathering, high moisturizing soap is made with our own honey and raw goat milk here at the farm. This glycerin based soap is all natural and includes raw goat milk, raw honey, raw coconut oil, aloe vera, vitamin E oil, castor oil, and a variety of essential oils. Some of our favorites are: Goat Milk & Honey, Citrus Mist, Lavender Flowers , Mango Papaya, Coconut Cream, Green Tea and Cucumber, and Honey Almond.
---
Local, Raw & Unfiltered Honey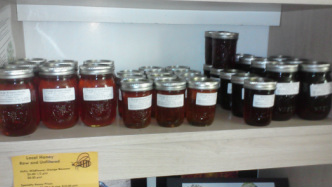 Our honey is local, raw, and unfiltered--just the way nature intended. All the great nutrients and taste are retained. Honey may differ in taste and nutrient content based on the specific flowers from which the bees harvested the nectar and the processing the honey undergoes after being removed from the hive. Raw, unfiltered honey is the least-processed type of honey, and therefore, retains the most nutrients.


---
Cow & Goat Milk Products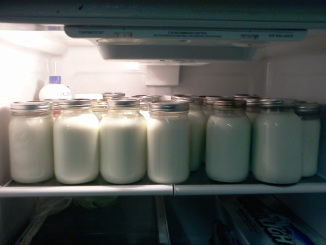 Our Dairy Goats provide us with wonderful, fresh milk. And our farmer friends provide our raw cow milk. From the milk we make a variety of soft cheeses including Neufchatel, Crumble, Feta, Mozzarella, Organic Herbs & Garlic, Sundried Tomato, Roasted Red Pepper. In addition, we have homemade yogurt and ice cream.*




*Sold for pet/agricultural use only, not for human consumption per Florida Law.


---
12 Palms Farm..."Life in the slow lane"